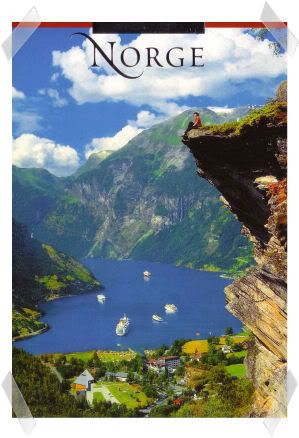 And so the challenge begins. The first postcard received comes to me from Bente in Norway showing Geiranger. If you look closely at the card, you'll see a woman in a red shirt, sitting at the edge of the cliff.
I wonder if that's real or photoshopped. And if it's real, what was the job description? "Must be willing to sit on extremely steep cliff and perhaps risk your life."
I hope it's a well paying job because personally that's not a risk I'd be willing to take.
But you can take a risk sending me a postcard. It's easy, it's affordable and I promise you won't lose your life over it....and I won't make you sit on a cliff either.