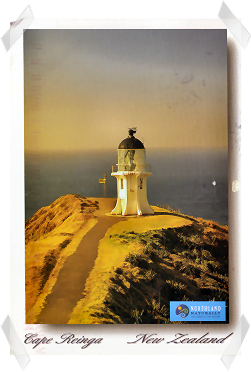 I think of Hobbits and Gandalf. Still. Even years later. For me, there's something magical about New Zealand. I can't wait to visit some day.
Adrienne
sent me this gorgeous card of the Cape Reinga lighthouse. It marks the most Northern point of New Zealand which also happens to be the point at which two bodies of water meet: the Pacific Ocean and the Tasman Sea.
Reinga is a Maori word which means "underworld"; they believed the spirits of the dead travel to Cape Reinga on their journey to the afterlife. Upon reaching Cape Reinga, they depart the mainland by leaping off an 800 year old tree on the cape.