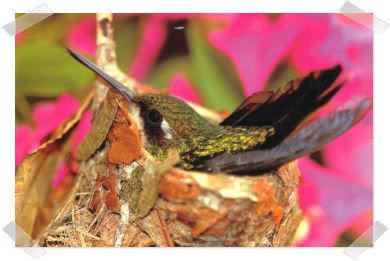 There are 42 different species of hummingbirds native to
Honduras
...This one is a Fork-Tailed Emerald Hummingbird.
I had the pleasure of seeing two in my backyard this summer. They move so fast that it took me a few seconds to realize what I saw! Hopefully I'll see more this summer, otherwise I'll just have to fly down to the Honduras to see some up close. Thanks to
Ali's aunt
for sending me this card :)
And I believe this is the last card for 2009. Here's hoping that I can get this project finished by the end of 2010. Thanks to everyone that's helped so far; we're saving one family, one postcard and one net at a time. Muchos gracias todos! Besos!
And I'll make the last donation of 2009 before the year is over :P